Tombstone Lakes Hike & Camping Trip in Kananaskis
Alberta's Kananaskis Country offers an incredible diversity of hiking experiences that are almost on par with what you'll find in the Rocky Mountain national parks – specifically Banff, Jasper, Yoho, and Kootenay. Many  of the trails are busier than they used to be – probably because so many people have discovered the joys of hiking thanks to COVID. But you can still lose the masses if you choose a hike that's a little longer. The Tombstone Lakes hike in Elbow-Sheep Wildland Provincial Park is just such a hike. You'll end at the stunning upper Tombstone Lake tucked beneath the twin peaks of Tombstone Mountain. For most of the hike, the mountain scenery is fabulous.
The 18.8 km return hike to the Tombstone Lakes is a moderate one – but that's because of the distance, and not some horrific elevation gain. The trip into the lakes can be done as a day hike from the Elbow Pass Day-use area but it also makes for an excellent one-or-two-night backpacking trip using the Tombstone Campground as a base. Then you could also knock off the superb Piper Pass and Rae Lake hikes. Note that backcountry reservations are needed.
No matter how you hike it, be sure to check out trail reports before you go and purchase a Kananaskis Conservation Pass. Always hike with the 10 essentials and carry bear spray that's easy to access – and not dangling from the back of your pack. The access to the trailhead is only open from June 15th until November 30th.
This post includes some affiliate links. If you make a qualifying purchase through one of these links, I will receive a small percentage of the sale at no extra cost to you. Thank you for your support.
Tombstone Lakes hike route description
Distance: 18.8 km from the Elbow Pass Day-use area
Elevation gain to Tombstone Campground: 175 m
Elevation gain to Tombstone Lakes from Tombstone Campground: 190 m
Time needed: 6 – 8 hours or do as an overnight
Start the hike at the Elbow Pass Day-use area on Highway 40 – 62 km south of the Trans-Canada Highway. Climb steeply for 1.3 km up a road to reach Elbow Lake. This is an extremely popular spot in summer – with loads of day trippers just out to enjoy the scenery. There is also an excellent campground beside the lake that is ideal for families.
Walk around the west shore of the lake, stopping to admire the crystal-clear water. At the north end of the lake cross on a log over a creek and continue left. Follow the trail – that has the look and feel of a road – through some wet areas, at least early in the season. The hiking is easy, and the views are magnificent.
Edworthy Falls detour
I'd highly recommend a short detour to Edworthy Falls, a popular destination. Most of the traffic on the trail turns off at the falls, 2.4 km down from where you hopped the creeklet. The turnoff is marked by big boulder with writing on it, on the left-hand side of the trail. It's a narrow steep trail down to the water's edge. Some of you might be content with a view rather than the full descent.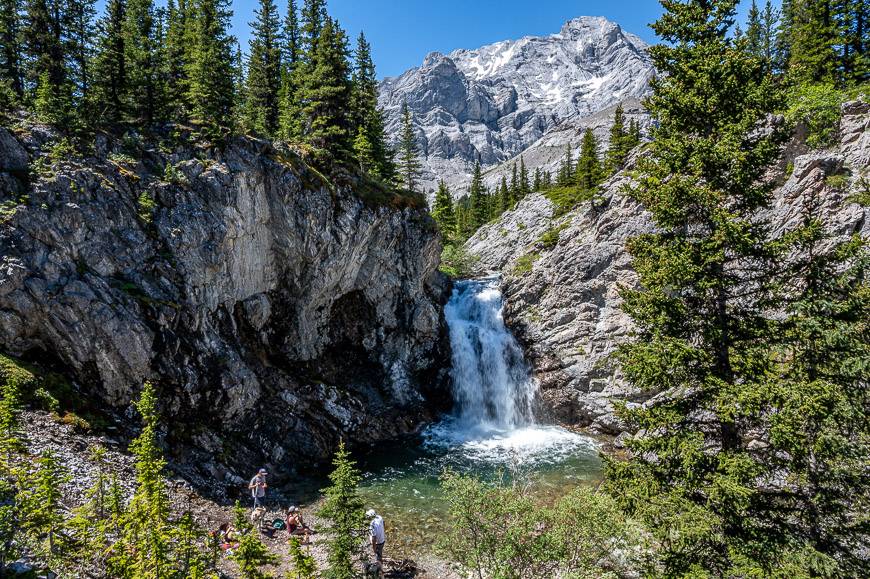 After a detour to Edworthy Falls, keep your eyes peeled for a cairn on the left – with a trail heading into the woods. It is 5.3 km from the trailhead. It will take you to glorious Piper Pass – an excellent day hike from the Tombstone Campground. In less than a 100 m, there is another trail marked by cairns on the right. This one goes to Rae Lake though I'd recommend doing this hike as a clockwise loop, so you'd finish the Rae Lake loop at the cairn. (There will be a link in a week or two with full directions on this blog.)
When you reach a T-junction at the end of the road, 6.5 km from the trailhead, you'll see a map. Go left. If you went right, you'd reach the other access point to Rae Lake.
Descend on the road like trail but be careful as there are lots of small rocks and pebbles so its easy to go over on an ankle. Part way down, you'll see a road on your right heading into the woods. The Tombstone Campground is in those woods. Cross the Elbow River bridge and in a few more minutes reach the campground at 7.3 km. 
If you're planning to spend the night, I'd recommend picking a campsite, pitching your tent and putting your food in the bearproof locker before continuing. As it's only a 75 – 90-minute return hike to the Tombstone Lakes from the campsite, you could always do the rest of the hike after dinner or first thing in the morning.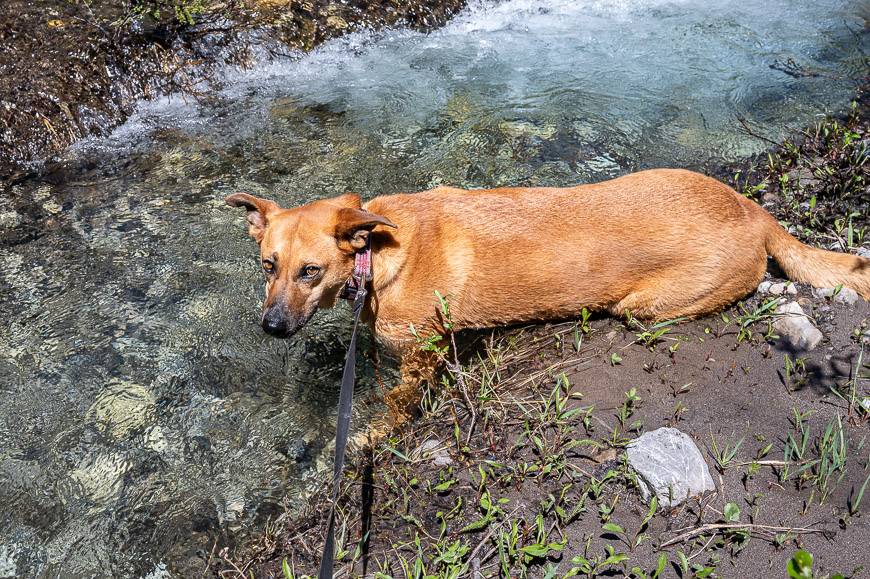 Tombstone Campground to Tombstone Lakes
Continue up a road past the campground. In short order reach a signed junction. Go left on the Little Elbow Trail. The trail steepens. After another 15 minutes of climbing go left up through the forest. In late June there were still some beautiful swaths of glacier lilies.
You'll reach the lower Tombstone Lake at the 9.2 km point. Upper Tombstone Lake is just a few minutes' hike away near a campground – though I'm not sure it's a legitimate one. The final stretch is very muddy and braided thanks to horse travel.
Upper Tombstone Lake is especially pretty in the morning. Tombstone Mountain at 3035 m towers over it. It was buggy in June so don't forget the bug spray.
We simply retraced our steps to the campground though there is the option to hike to Tombstone Pass in what is described by Kathy and Craig Copeland as a "heather-and-grass meadow ringed by larches." If you go to the pass you can do a loop, returning on the Little Elbow trail – the one you took up from the campground. We found signage to be quite good – and with a map you should be able to easily figure out the loop.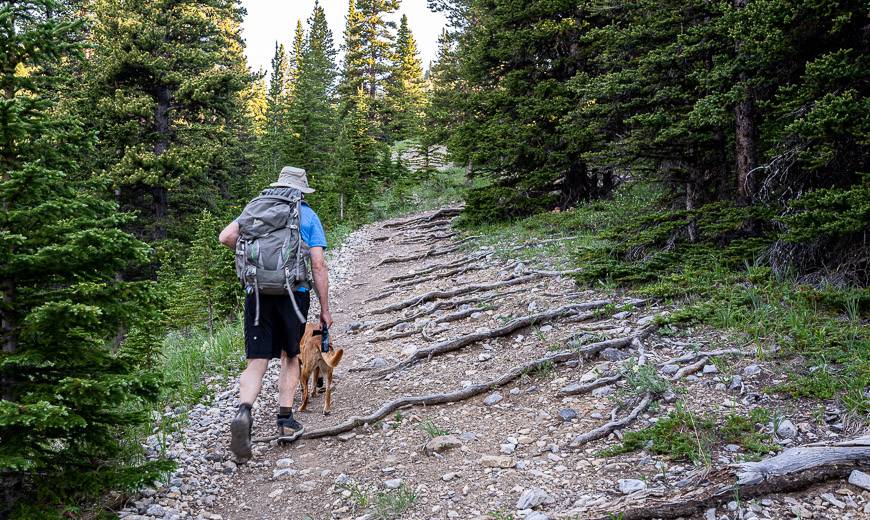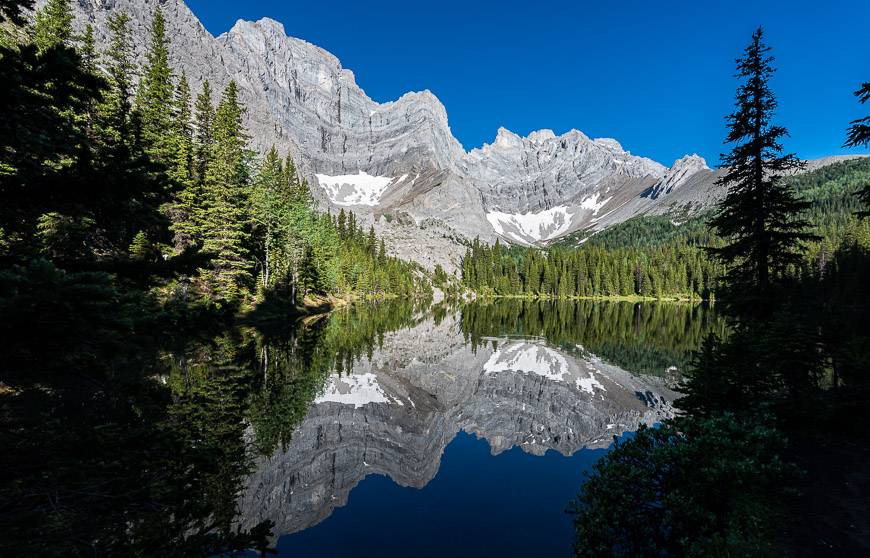 Tombstone Campground in Kananaskis Country
The Tombstone Campground in Elbow Sheep Wildland Provincial Park is one of the nicer ones I've visited. It can be accessed from several different directions. Most people hike or mountain bike (we met a dad, his mother-in-law and 5-year old son who had biked in) the 7.3 km in from the Elbow Pass Day-use area located on Highway 40 in Peter Lougheed Provincial Park. But there is secondary access via a 20.4 km route on Big Elbow Trail from the Little Elbow Trailhead Parking. Next door to the hikers-bikers campground is an equestrian campground but you'd never know it when you're there. Book campgrounds online via Alberta Parks.
The campground has 11 sites. Most are private. The trees are also nicely spaced so you could set up a hammock. You can hear the stream gurgling in the background from some of the campsites. Ours was just steps away from a place where we could look at the Big Elbow River and enjoy the mountains at the same time.
You'll also find a communal cooking area with lots of picnic tables, bear-proof lockers, albeit in a poor location that gets full sun in the heat of the day, a grey water disposal area, quick access to water – though you'll have to treat it, firewood and a lovely sitting area where you can enjoy a campfire with a view.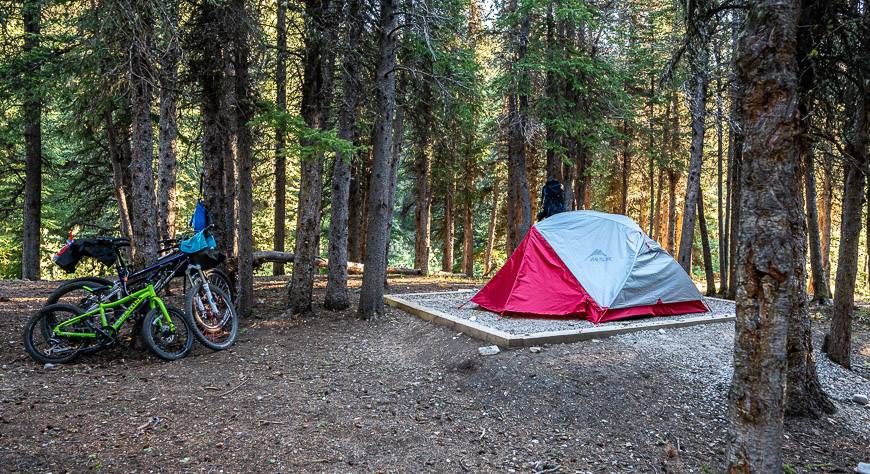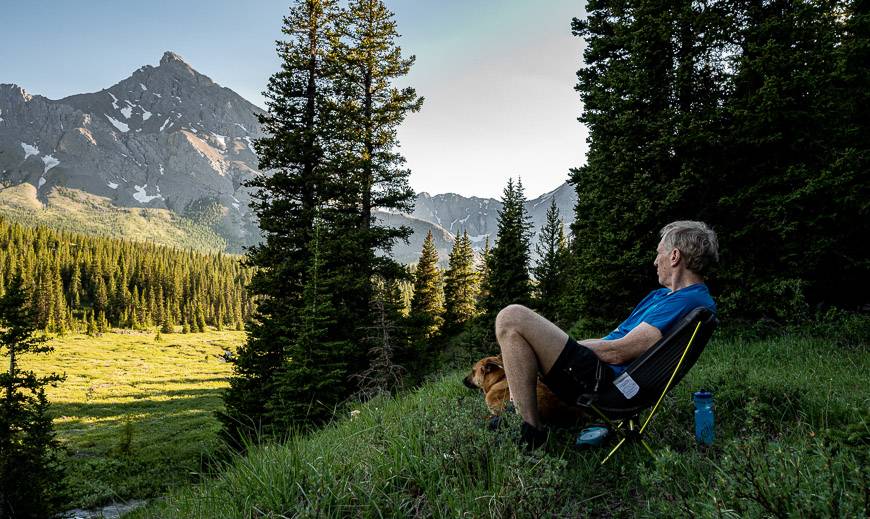 A few things I'd recommend
As a map lover I'd recommend carrying a copy of the Gem Trek Kananaskis Lakes map. 
I did this hike in the heat and couldn't imagine surviving without a sun hat with a brim and a bandana I could regularly soak in the cold river water. If it's hot when you hike this trail, you'll want a means to filter water as you'll drink a lot – perhaps as many as 4 litres which is too much to carry. We just used purifying tablets but if you're with a group consider having someone carry a gravity water filter.
If you're heading back to the Trans-Canada Highway post hike on a hot day, stop in at the gas station across from the gated entrance to Fortress Mountain. You can buy ice cream and cold drinks.
Further reading on multi-day hikes 
Click on the photo to bookmark to your Pinterest boards.